Miami face-chewing victim describes attack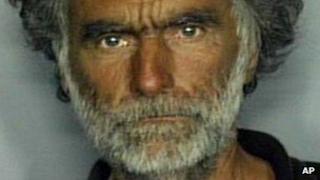 A man who had his face eaten by an attacker on a Florida motorway in May has told police that his assailant "just ripped me to ribbons".
Ronald Poppo, 65, said in a recorded police interview that Rudy Eugene initially seemed friendly but went "berserk", attacking with bare hands.
Mr Poppo lost an eye, his eyebrows, his nose, right cheek and parts of his forehead. He remains in long-term care.
Eugene, 31, was shot dead by police during the attack.
Mr Poppo, a homeless man in Miami, told police in an interview recorded on 19 July that Eugene did not seem hostile when he approached.
But he soon became angry about something that had apparently happened on Miami Beach, according to Mr Poppo.
Thousands of people had been on the beach throughout the Memorial Day bank holiday weekend.
"For a while he was acting nice. Then he got flustered. He probably remembered something that happened on the beach and was not happy about it," Mr Poppo told the police, according to local news station WFOR.
"He just ripped me to ribbons. He chewed up my face. He plucked out my eyes. Basically, that's all there is to say about it."
Mr Poppo's other eye was also badly injured in the attack.
He said Eugene talked about not being able "to score", adding his attacker "must have been souped up on something".
Tests found that Eugene had marijuana in his system during the attack, but no other drugs or alcohol.
Mr Poppo also said he did nothing to provoke the attack: "I didn't curse at the guy or say anything mean or nasty."
He thanked the police and said the officer who killed Eugene had arrived just in time to save his life.
Last month, doctors said Mr Poppo was cheerful, talking and able to move around, but would need more surgery before they can plan facial reconstruction.