Awol US soldier Naser Jason Abdo jailed for life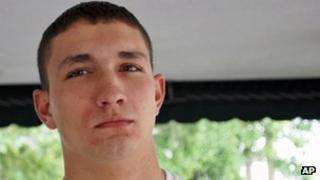 A US soldier convicted of plotting to blow up a restaurant full of troops in Texas has been sentenced to life in jail.
The former Army Pfc, Naser Jason Abdo, was found guilty in May of six federal offences, including attempting to use a weapon of mass destruction.
The 22-year-old said last year he had planned a "massive attack" against soldiers stationed at Fort Hood.
He went Awol in Kentucky just before his arrest near Fort Hood in 2011.
At the time of his arrest, the authorities found bomb-making materials in his motel room.
Abdo, a Muslim convert and Texas native, refused to deploy to Iraq and Afghanistan from Fort Campbell in Kentucky, before going missing on 4 July 2011.
'Allah gives mercy'
He said he was planning a religious mission to secure "justice" for the people of those countries, in a recorded conversation with his mother that was played during his trial.
Abdo represented himself after telling a judge he was not communicating well with his lawyer.
He appeared in court with a white cloth bound across his mouth and a black mesh over his hair and face - earlier this year he attempted to spit what he apparently thought was HIV-infected blood on three officers.
Abdo made a long, meandering statement to the court in which he said he would pursue jihad "until the day the dead are called to account for their deeds".
"I don't ask the court for mercy because Allah is the one that gives mercy," he said. He spoke Arabic intermittently during his statement, and then translated for the court.
He was also convicted of attempted murder of US officers or employees, and four counts of possessing a weapon in furtherance of a federal crime of violence.
Abdo told police in a recorded interview he planned the attack "because I don't appreciate what my unit did in Afghanistan".
According to authorities, he intended to set off a bomb in a Chinese restaurant popular with Fort Hood soldiers and their families. Then Abdo planned to wait outside and shoot any survivors.
He believed he would become a martyr when police killed him, they added.
Abdo referred to Maj Nidal Hasan, an army psychiatrist accused of killing 13 people in a 2009 shooting at Fort Hood, and told the court he remained in the accused's shadow despite "efforts to outdo him".