Wildfire near Manton, California, destroys 50 buildings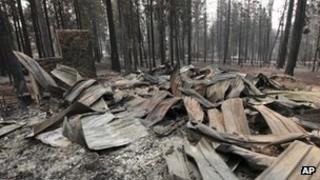 At least 50 buildings have been destroyed by a 33-sq-mile (85-sq-km) wildfire burning outside the northern Californian town of Manton, officials say.
The lightning-sparked blaze began on Saturday and continues to threaten hundreds of homes.
Up to 2,000 firefighters are battling the flames.
The blaze is one of some three dozen large fires burning in the drought-hit western US states, authorities say.
Lightning storms hitting parched grass, brush and timber have brought an unusually early start to the fire season.
On Tuesday, Gov Jerry Brown announced that National Guard troops would be helping with firefighting efforts, already bolstered by federal funds from the Federal Emergency Management Agency.
Number 'will rise'
Firefighters assessing the destruction from the Manton blaze, known as the Ponderosa Fire, have concluded that some 50 buildings - many residential - had been destroyed.
"There is a good chance that number [of destroyed buildings] will go up, because they haven't been able to get into the whole area affected by the fire," Mike Witesman, a spokesman for the California Department of Forestry and Fire Protection, said.
The firefighters are now focused on tackling the blaze - now said to be 40% contained - as it threatens some 3,500 homes in the small communities of Shingleton, Manton and Viola.
"What can you do?" said Lynn Rodgers, evacuated from her home in Shingleton.
"Everything is in God's hands - and the firefighters."
The fire has forced the closure of major roads and prompted a declaration of emergency in Shasta county.
It is one of some three dozen fires raging around the western states, including several in California, thought to have consumed more than 1,500 sq miles, according to the National Interagency Fire Center in Boise, Idaho.