Cardinal Timothy Dolan to give Republican benediction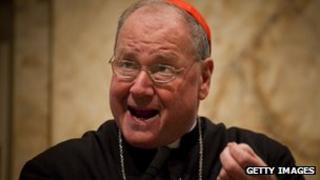 The most senior US Catholic leader is to give a benediction at the Republican National Convention next week in Florida when Mitt Romney accepts the party's presidential nomination.
Cardinal Timothy Dolan will give prayers at the televised event, Mr Romney said in an interview.
The cardinal is suing President Barack Obama over his healthcare plans.
But the cardinal's office says the appearance will not be an endorsement for Mr Romney.
Joseph Zwilling, a spokesman for the cardinal, said the agreement had been made within the last two weeks, according to US media.
The move was not partisan and the cardinal was open to invitations from both political parties, he was quoted as saying.
'Playing it down'
Mr Romney announced the news in an interview with The World Over Live show on the Catholic EWTN channel, due to air later on Thursday.
Cardinal Dolan leads the Roman Catholic Archdiocese of New York and is also head of the US Conference of Catholic Bishops.
The BBC's Zoe Conway in Washington says the cardinal's office is keen to play down his appearance, describing it as just a priest going to pray.
But some, she says, will see this as America's most powerful Catholic giving Mitt Romney his blessing.
The Catholic Church is embroiled in a dispute with Mr Obama over his health law that requires employers to provide free access to birth control through their health insurance.
Although the law exempts houses of worship, it includes other church-linked employers such as schools and hospitals.
Mr Romney has also come out against the policy, calling it an attack on freedom of religion.
The four-day National Convention begins on Monday in Tampa, Florida.
Meanwhile, an opinion poll found that Mr Obama holds a six-point lead in the swing state of Ohio, but that the race had tightened in two other key states.
Mr Obama's lead in Florida has narrowed to three points in Florida and to two points in Wisconsin, according to the Quinnipiac University/CBS News/New York Times poll.