Neck and neck into the storm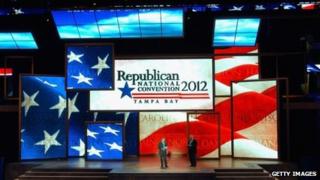 A tempest looms over the Republican Convention that starts next week in Florida.
But it is an actual meteorological event, Tropical Storm Isaac, that threatens the gathering, not a political problem.
With a week of TV coverage, however reduced, and a big speech from Mitt Romney, they can expect a fair wind behind them before the month is out and at least a temporary boost in the polls.
In September it is the Democrats' turn in North Carolina, and they too will hope to get a bounce.
Particularly in TV and radio reports, where you need a simple shorthand, I am still characterising this election as "neck and neck".
I think it captures both the closeness of the race and reflects the opinion-poll variations, which put one ahead, and then the other.
Some question this, pointing out that if you look at the US states that matter the most, President Barack Obama is well ahead.
But there are signs the race is getting tighter - and that is pretty bad news for Mr Obama right now.
An academic report (NOT an opinion poll) claims the economic data points towards a big Romney victory.
One of the authors, Professor Kenneth Bickers of Colorado University, says: "What is striking about our state-level economic indicator forecast is the expectation that Obama will lose almost all of the states currently considered as swing states, including North Carolina, Virginia, New Hampshire, Colorado, Wisconsin, Minnesota, Pennsylvania, Ohio and Florida."
Others will point out that the past does not predict the present - the candidates and the issues are always different.
One new opinion poll shows Mr Romney narrowing the gap in important states, although not enough to win.
Another does show him winning, while others show Mr Obama doing slightly better.
This is a very fluid election, with not a great deal of enthusiasm for either candidate.
This time the theatre of the conventions could really matter.