US tennis judge accused of using mug to kill husband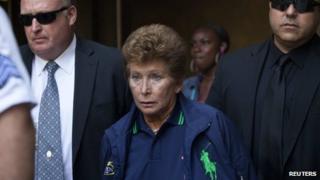 A top tennis referee is on her way back to California to defend herself against charges that she beat her husband to death with a coffee mug.
Lois Goodman, 70, was arrested in New York on Tuesday, where she was working as a line judge at the US Open.
Alan Goodman, 80, died in April, and Mrs Goodman told police he had fallen down the stairs in their Los Angeles condominium while she was at a match.
But police said they considered the death suspicious from the start.
Mrs Goodman's arrest warrant was filed on 14 August.
"She said she surmised he had fallen down the steps, had a heart attack and [he] managed to get back upstairs to the bed," Lieutenant David Storaker told the Associated Press.
Her story did not match her husband's head injuries and blood loss, officials said, and police noticed a broken mug.
Weeks later, a coroner's report found the cause of death was multiple injuries to the head, Lt Storaker said, and Los Angeles officials ruled Alan Goodman's death a homicide.
Mrs Goodman did not fight extradition and was being flown to Los Angeles on Thursday.
"She's anxious to defend herself," her New York lawyer, Guy Oksenhendler, told the Associated Press.
Mr Oksenhendler questioned the decision to have her arrested in New York, suggesting it was done that way to raise media attention on two coasts.
"My concern is that their actions may prejudice her defence in California," he said.
The Los Angeles police department has said that she had been expected to be in New York for several weeks, and they wanted to move swiftly to arrest a murder suspect.
The family owned a car parts business since the early 1960s and had three daughters, according to a 1994 Los Angeles Times profile.
Lois Goodman began officiating matches in 1979.