Tropical Storm Isaac: Your stories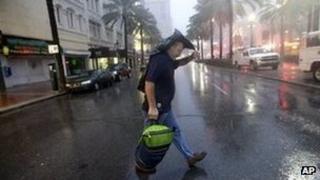 Tropical Storm Isaac has been downgraded from a hurricane but it is still bringing heavy rains and floods to southern US states.
The centre of the storm has now passed New Orleans, seven years after the devastating and much stronger Hurricane Katrina.
Here, people in the state of Louisiana who have been affected by Isaac share their experiences.
Antony Giles, Thibodaux
There has been a bit of rain on Wednesday evening and Thursday morning but it is coming in pulses.
We made the decision to sit it out and thought it would be a good idea to stay in a hotel that has a solid structure, about five miles away.
We have been here since Tuesday and we also have plenty of supplies here.
The power is back on and I can access the internet, but TV and cellphones are out.
Tree limbs and power lines are down but there has not been too much damage apart from on shop fronts and some ripped off roof slates.
There is no major flooding which is a relief, but many roads are still blocked.
I can see a bit of sun amongst the bands of rain and high winds, so I think we are coming out of the tail end of the storm.
We are about 50 miles away from New Orleans so I hope the improvement in the weather bodes well there.
We have been told that the gusts will continue until Friday.
We will stay here until then and hope that there hasn't been too much damage to our home.
Niall Gibbons, New Orleans
I'm in Metairie in New Orleans and in the past week, it hasn't been too bad here.
In the last 48 hours there has been more rain than anything else and 75mph gusts.
Thursday morning was the first morning that it has not rained here.
I wasn't worried about Isaac because my work colleagues who went through Hurricane Katrina seven years ago said Isaac is only a category one hurricane and not the category five they experienced.
Also, I'm on the first floor of an apartment block - the flood levels would have to have been 15 feet high before they could reach me!
But out of 16 residents in my block, I was only one of three who stayed.
The only thing I was worried about was my truck that is parked on street level.
The storm drains and drainage rivers were filling right up, but now they have subsided.
The electricity still hasn't come back on - it went down on Wednesday afternoon. So I can't access the TV for information on what is happening.
Istvan Berkeley, Lafayette
Well, it seems we got lucky with Isaac.
As we were on the west side of the storm, which is usually the weakest side, we did not get hit too badly.
We also had the good fortune of dry air on the west side of the storm, which robbed it of much of its force.
Here, we had intermittent rain and some strong winds, but nothing like as bad as they could have been.
My garden is full of debris from the trees, but none of the trees fell.
The rain is still falling, as the bands of squalls pass though, but the major danger seems to have passed.
On Friday I heard that there was a risk of tornadoes, but as things seem to be relatively calm, the risk does not appear to be too high.
The response from local officials has also been exemplary. Clearly the lessons from Katrina and Rita have been learned well.
All that being said, hurricane season is very far from over.
Tropical waves continue to roll off the African coast. We may yet see some hurricane problems, but at least we got through Isaac mostly unscathed.
We will have to wait and see what the rest of the season has in store.
Interviews by Andrée Massiah