Sleeping New Jersey children 'knifed in drug attack'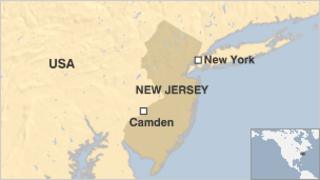 A man has been charged with stabbing two children, one fatally, in their beds in the New Jersey city of Camden, authorities have said.
Osvaldo Rivera, 31, was said to be high on PCP-laced marijuana when he killed a six-year-old boy and critically wounded his 12-year-old sister.
Police said blood-stained shoes found at the time of his arrest matched bloody footprints at the crime scene.
The attack came shortly after the drug mix was cited in another Camden death.
A 34-year-old woman in the impoverished town was alleged to have decapitated her two-year-old son before taking her own life.
Babysitter escape
In the latest attack, six-year-old Dominick Andujor died while his sister had her throat slit as she slept.
The critically injured 12-year-old girl fled the property and was found at a neighbour's home.
A 14-year-old girl, who had been looking after the children while their mother recovered in hospital from a surgery, was not hurt.
The accused told investigators he had smoked a mixture of cannabis and the hallucinogenic drug PCP before the attack, said a spokesman for the Camden County prosecutor's office.
A spokesman for the Camden County prosecutor's office, Jason Laughlin, told the Associated Press the combination of PCP and marijuana - known as "wet" - makes people incoherent, hallucinatory and, in some cases, violent.
Authorities are aiming to take steps to restrict access to the drug, he added, without specifying how that would be achieved.