Los Angeles manager forced to rob own bank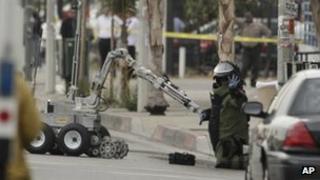 Police in the US city of Los Angeles are hunting for two robbers who forced a bank manager to rob a branch of her own bank.
The woman was kidnapped in a park and held overnight. The next day she entered a Bank of America branch with a device attached to her.
She had been told she was wearing a bomb and showed it to her colleagues before emptying the safe as instructed.
The money was then thrown to the robbers who escaped in a car.
"She was told that it was explosives and she was ordered to go into the bank and take out all the money," said sheriff's Capt Mike Parker. "She did do that in fear for her life."
A robot was used to remove and make safe the device, which investigators said was not explosive.
Officials did not immediately disclose how much money was taken in the robbery, which happened on Wednesday morning in the east of the city.