Democratic convention: No news is good news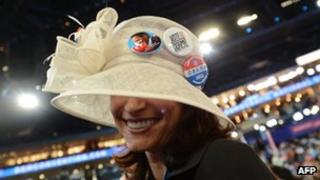 The Democratic and Republican party conventions are highly scripted, no-news advertisements for their respective presidential candidates. So why does the media spend so much time and money covering them?
On Thursday night, President Barack Obama's speech to the Democratic National Convention (DNC) in Charlotte, North Carolina, caps a week of party cheerleading and - for many - partying.
On Friday, the vendors selling Obama badges, puppets and foam heads will all be gone.
So too will the temporary journalism headquarters like the Politico Hub, CNN Grill, and Bloomberg Link, along with their with swanky TVs, comfortable seats and free drinks.
And the election will continue on much as before - the nation's latest job numbers will be revealed on Friday morning, and the economy will still be the key stumbling block to a second term in office for a renominated Barack Obama.
With so little actual news happening at the conventions, debate has turned to the value of these events for news organisations.
Boycott urged
Marc Rosenwasser, executive producer of National Public Radio's Need to Know programme, wrote an open letter to media outlets last week, declaring his intention to skip the DNC and urging the mainstream networks to do the same.
"Why do you need to spend many millions of dollars flying hundreds of your employees to Tampa and Charlotte and then housing and feeding them for a week when you could just as easily cover the story from New York via a pool feed?" he asked.
In an age when tight budgets are forcing many news organisations to lay off staff and cut investment in news-gathering, the free-flowing liquor and giant hospitality suites big outlets sponsor do appear like excess.
But many journalists say the lack of news at the convention isn't the point - it's the access and the chance to build your network's reputation.
"Obviously, there's so much media here that you could sit at your computer in New York or San Francisco and be able to rewrite the convention," says Jo Piazza, a senior editor at Current TV, the online and cable network founded by former Democratic Vice-President Al Gore.
But Piazza sees value in meeting her sources face-to-face, especially since her company does not have any offices in Washington DC.
And though the politicians make little news, a journalist can find stories.
"Everyone who is important in Democratic politics is here, and everyone who is interested in protesting Democratic politics is here," says Justin Peters, editor-at-large for the Columbia Journalism Review.
"If you are a resourceful reporter who is interested and able to get outside the convention bubble, there are a thousand angles."
Parties and panels
Other explanations are more nuanced.
The conventions are "a total marketing campaign" for the candidates - and for news organisations who attend them, says Ben Smith, editor-in-chief of web magazine BuzzFeed.
Buzzfeed's team was small compared to the network crews - but the site threw one of the more talked-about parties at the convention, complete with free-roaming tortoises hooked up with web cams and a starfish petting zoo.
The site, which shot to prominence highlighting viral internet content, has seen its profile soar since it began covering politics at the start of this election cycle.
"For journalism to work, you want news organisations to be healthy businesses, so marketing is a big thing," says Smith, who previously worked for politics news site Politico.
He says the strong business arms of CNN and Bloomberg - which have a huge reporting and promotional footprint at the convention - finance their reporting efforts.
At the Bloomberg Link, the news and financial information company's hub in Charlotte, guests sat on white leather sofas and eat chef-prepared meals.
In another room, the mayors of Los Angeles, Houston and Charlotte discussed economic issues in front of a small panel.
Political infomercial?
The hub allows Bloomberg to promote its latest foray into politics, Bloomberg Government, by enticing politics Washington DC's movers and shakers into their space.
And along the way, they're producing a lot of news.
"We thought we could gather the most influential people in both [Charlotte and Tampa]: senators, governors, politicians, mayors," says Andrew Morse, head of US television for Bloomberg.
"We have them speaking on panels and digging into the issues, then we're putting them on television and writing about them."
Ultimately, many Americans tuned in to see what was basically a free infomercial for the candidates.
More than 22 million viewers turned in for the first night of the Republican convention, and 26.2 million viewers watched the first night of the Democratic convention, according to Nielsen.
Pollsters use the rise in approval polls - or "bump" - that comes after a convention to determine how successful a candidate may fare in the general election.
And as long as viewers keep tuning in, the networks will keep covering the conventions - and promoting themselves in the process.