Aurora shootings: James Holmes notebook request dropped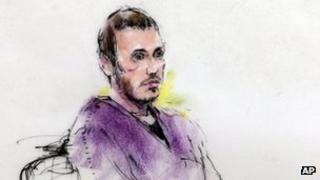 Prosecutors in the case of a man accused of a mass shooting at a cinema in Colorado in July have dropped their request to see a notebook the alleged gunman sent to a psychiatrist.
James Holmes, 24, is accused of killing 12 and wounding 58 at the premiere of the new Batman film in Aurora.
Mr Holmes sent the notebook to his university psychiatrist before the shooting.
US media reports have said it includes drawings of an attack.
Prosecutors dropped their appeal to examine the notebook on Thursday, saying they did not want to delay proceedings.
Defence lawyers argued that the note is protected under doctor-patient privilege. Dr Lynne Fenton last saw James Holmes as a patient on 11 June.
The 24-year-old was a graduate student at the University of Colorado, Denver, but was in the process of dropping out after failing a key exam.