Woman killed in Colorado prison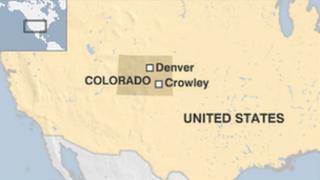 A female staff member at an all-male prison in the US state of Colorado has been killed during an incident involving an inmate, officials say.
Another female employee was seriously injured in the disturbance at the Arkansas Valley jail, said a state corrections spokeswoman.
It happened as breakfast was being prepared; both employees attacked were female kitchen staff.
The jail was placed on lockdown and a suspect was identified.
The facility, in the town of Crowley, houses 1,000 prisoners.
The kitchen has been shut down and meals are being delivered from other facilities.
State investigators have been called to determine what happened.