Profile: Nakoula Basseley Nakoula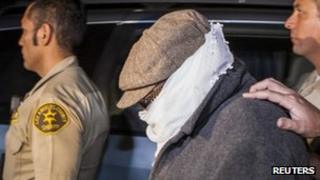 Even the real name of the man believed to have produced the crude film mocking the Prophet Muhammad is unknown.
Nakoula Basseley Nakoula - who also goes by Sam Bacile, Nicola Bacily and Mark Basseley Yousseff - is a convicted felon believed to be an Egyptian-American Coptic Christian.
He has a record of felony offences in California, and court records provide a rare insight into his background.
On Thursday, he was arrested and accused of violating the terms of his probation in a 2010 cheque fraud case.
Nakoula, who was born in 1957, is a US citizen who lives in Cerritos, California. News media have reported he operates petrol stations and has attended Coptic churches in the Los Angeles area.
"He is not a regular member - he comes and leaves," Bishop Serapion, of the Coptic Orthodox Diocese of Los Angeles, told the Los Angeles Times.
"Sometimes he disappears for many months. We don't know about his activities."
Jailed
He was arrested in 2009 after an extensive investigation by federal law enforcement agents into a scheme to defraud banks and credit card issuers.
According to court documents, he and co-conspirators opened bank accounts under false names and Social Security numbers, and deposited into those cheques drawn from credit card accounts opened with false names. He would then withdraw cash from cash machines.
He was jailed pending trial, with prosecutors telling a federal judge he had extensive foreign ties, had sent large amounts of money abroad, and that they had been unable to verify his residence.
In June 2010 he pleaded no contest and was sentenced to 21 months in prison and to a $794,000 (£490,000) fine. He was also ordered not to use computers, e-mail and other electronic communication without approval from a probation officer, nor to use names other than his "true legal" one for any purpose without approval.
In prison, according to the Los Angeles Times, he read the Koran for ammunition for criticism of Islam and spoke of his admiration for a controversial Coptic priest who had been disavowed by the mainstream church.
In the days after Muslims across the world rioted against the film Innocence of Muslims, Nakoula went into hiding.
'Can't be trusted'
He was interviewed by authorities and questioned about whether his role producing the film and distributing it online had violated the terms of his probation.
He has been arrested and accused of lying to federal investigators.
In court this week, prosecutors said he had applied for a passport under one name, a driver's license under another, and had used a third name spelled various ways during production of the film.
In court, Nakoula insisted his true name was Mark Basseley Yousseff. Federal Judge Suzanne Segal has ordered a hearing to determine his actual name.
"He's a person who simply can't be trusted," Assistant US Attorney Robert Dugdale said.