New York Times ex-chief Arthur Sulzberger Sr dies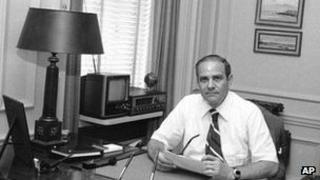 Award-winning American newspaper publisher Arthur Sulzberger Sr has died at the age of 86.
Mr Sulzberger led the New York Times for more than three decades, before passing the business to his son.
He took over the paper in 1963 when it was in financial trouble, and transformed it into the heart of a multi-billion dollar media empire.
His family announced he had died at his home in Southampton, New York state, after a long illness.
His son, Arthur Sulzberger Jr, said in a statement that his father, whom he referred to by his childhood nickname of Punch, was "one of our industry's most admired executives".
"Punch, the old Marine captain who never backed down from a fight, was an absolutely fierce defender of the freedom of the press," he said.
'Nepotism works'
The New York Times was bought by Mr Sulzberger Sr's grandfather Adolph Ochs in 1896.
During Mr Sulzberger's tenure, the Times won 31 Pulitzer prizes.
He oversaw a huge circulation boost at the paper, and increased its parent company's annual revenues from $100m ($62m) in 1963 to $1.7bn by the time he stepped down in 1997.
He also led the paper through high-level clashes with the political establishment.
In 1971, the Times published a series of stories alleging that politicians had systematically lied over the US involvement in Vietnam.
The source was thousands of leaked government documents known as the Pentagon Papers.
The Nixon administration demanded that the paper stop publishing the stories on grounds of national security.
But the paper refused, and then won the subsequent court case by arguing that the First Amendment of the US constitution guaranteed free speech.
The case is seen as a landmark in the history of free speech in the US.
Mr Sulzberger said he read more than 7,000 pages of the Pentagon Papers before personally deciding to publish them.
His family still holds a controlling stake in the New York Times.
He was a strong believer in family ownership of newspapers.
He once joked: "My conclusion is simple. Nepotism works."