Father who mistakenly shot son 'devastated'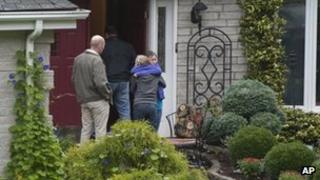 A teacher who mistakenly shot dead his 15-year-old adopted son has said through a lawyer that his family is "broken in half".
Jeffrey Giuliano opened fire on a masked prowler at his sister's house next door in the Connecticut town of New Fairfield last week.
Police later told him he had killed his adopted son Tyler.
Lawyer Gene Zingaro said Mr Giuliano's family has "literally hundreds of questions as to what Tyler was doing".
"Those questions will probably go unanswered forever," Mr Zingaro said.
State police say they are continuing to investigate the shooting and no charges have been filed.
'Three tragedies'
The family, who have three other children, adopted the 15-year-old and his sister four years ago.
According to the family lawyer, the children's biological father was being sent to prison.
State police said Mr Giuliano was called by his sister at around 01:00 on Thursday (05:00 GMT) when she heard a noise outside her house and believed someone was trying to break in.
Armed with a gun, Mr Giuliano confronted a prowler wearing a black balaclava and black clothing.
The science teacher opened fire when the person lunged at him with a knife.
Mr Giuliano and his wife co-operated with police, allowing them to search the home and giving a sworn statement.
"Their family is hurting," said Mr Zingaro. "They've been broken in half by this unspeakable tragedy, which really is three tragedies all in one."
In a statement to parents, schools superintendent Alicia Roy said: "Our district has experienced a tragedy that has affected us deeply."
"Everybody is just shaking their heads over it," New Fairfield First Selectman, the municipal leader, John Hodge told the Danbury News-Times on Thursday. "We're hoping the police can get to the bottom of it."