US counter-terrorism centres criticised in Senate paper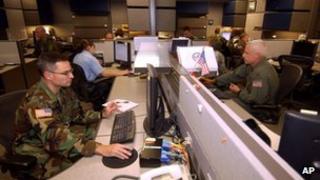 A multi-billion dollar government programme aimed at sharing information about terror threats has been criticised for generating "irrelevant" intelligence in a US Senate report.
The report found no examples of the "fusion centers" uncovering terrorist threats or disrupting any active plots.
Officials also lost track of how much federal money was spent on the centres, but estimates ranged from $300m (£187m) to $1.4bn, the report added.
The initative was set up after 9/11.
The 77 centres were started amid concerns that federal, state and local authorities were not sharing intelligence about potential terror threats.
Correspondents say the programme, which began during the administration of former President George W Bush, was repeatedly praised by the Department of Homeland Security (DHS) as essential to maintaining national security.
'Irrelevant, inappropriate, useless'
The investigation by a Senate Homeland Security and Governmental Affairs subcommittee was harsh in its criticism of the initiative.
"The subcommittee investigation could identify no reporting which uncovered a terrorist threat, nor could it identify a contribution such fusion center reporting made to disrupt an active terrorist plot," the report said.
It went on to say that the centres sometimes "produced irrelevant, useless or inappropriate intelligence reporting to DHS, and many produced no intelligence reporting whatsoever".
The report also found evidence that some information gathered about US citizens may have infringed civil liberties.
But investigators said federal money had been spent on expensive data-mining software, flat-screen televisions and, in one centre in the state of Arizona, customised cars used for commuting.
It is estimated that federal money accounted for about 20% to 30% of the programme's total funding. Correspondents say Congress is unlikely to reduce spending on the centres.
The DHS responded that the report is "out of date, inaccurate and misleading", and had not looked closely enough at the programme's benefits to local law enforcement.