Chinese view US less positively - Pew survey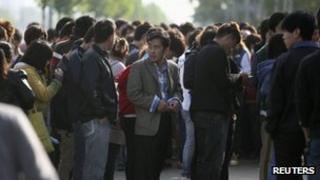 Chinese views on US-China relations have declined sharply in the last two years, a new study has found.
Only 39% of people said they would call the relationship co-operative, down from 68% in 2010, a Pew report said.
The number of people who described US-China ties as hostile was up to 26% from 8% two years earlier.
Many Chinese people, especially the young, urban and well-educated, said they admired elements of US soft power, such as science and technology.
But respondents were split on their preferences for American music, films and television.
The study, conducted in March and April, also showed that the number of people who believed Mr Obama would do the right thing in world affairs had dropped to 38% from 52% two years earlier.
But American democratic ideals remained popular, according to the report, with roughly half responding positively, and seven-in-10 Chinese in higher income categories voicing positive opinions about democracy.
The survey of more than 3,000 Chinese people concluded that nearly half - 48% - see the US as the world's leading economy - 29% said the same of China.
In the US, perceptions of American economic dominance are more divided, with 40% saying the US has the largest economy and 41% saying China has overtaken America in economic power, the study said.
In general, positive ratings for the US were found to be higher among wealthier, younger, better-educated and urban people.
The Pew Global Attitudes Project China Report comes weeks ahead of a US presidential election, in which China has been an issue.
Republican challenger Mitt Romney has accused Beijing of currency manipulation and says the president is not taking a tough stance against what he called China's unfair trade practices.
But President Barack Obama has pointed out that he has lodged a number of trade complaints against Beijing with the World Trade Organization.