Arlen Specter funeral: Joe Biden hails ex-senator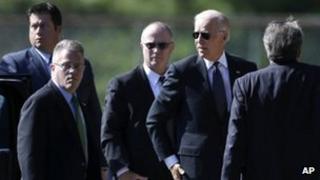 US Vice-President Joe Biden, judges and former governors have attended the funeral of Arlen Specter, the former senator for Pennsylvania who crossed the aisle from Republican to Democrat.
Mr Biden said Specter had been a man of "undaunted courage" in the US Senate, as hundreds of people paid their respects in a suburb of Philadelphia.
Specter died at the age of 82, after a battle with non-Hodgkin lymphoma.
He left the Republican party in 2009, saying it had become too conservative.
An independent-minded moderate, he spent three decades as a Republican senator before switching to the Democrats in 2009 and losing his next election.
Intellectual and stubborn
"He believed he could change the world, if he just worked hard enough at it," said Vice-President Biden, adding that Specter's example should inspire families battling cancer.
Meanwhile, Judge Jan DuBois said the veteran politician approached everything in life with "with intensity, determination and grit" and had even taught a final law class at the University of Pennsylvania on 4 October.
Former Pennsylvania governors Ed Rendell and Dick Thornburgh were also present.
The son of a junkyard owner, Arlen Specter was born in 1930 in Russell, Kansas. He later moved to Pennsylvania to go to college, as his local university did not have Jewish fraternities.
After graduating from the University of Pennsylvania he went to Yale law school in 1956, entering politics as a Democrat in Philadelphia in the 1960s.
In 1965 Specter left the Democratic party, and eventually entered the Senate as a Republican in 1981.
Pennsylvania's longest-serving senator, Specter served on the Warren Commission investigating John F Kennedy's assassination, developing the single-bullet theory that suggested there was only one killer.
He also played a key role in several Supreme Court nominations, took credit for helping to defeat President Bill Clinton's national healthcare plan and helped lead the investigation into Gulf War syndrome, the name given to a collection of symptoms experienced by veterans of the war.
He was seen by his colleagues as an intellectual and stubborn politician, someone who was not afraid to take controversial positions and always up for a political fight.
During his time in the Senate, Specter survived two previous bouts of Hodgkin lymphoma, a brain tumour and cardiac arrest.
Specter passed away at home on Sunday and is survived by his wife and two sons.