Saudi ambassador suspect Manssor Arbabsiar admits guilt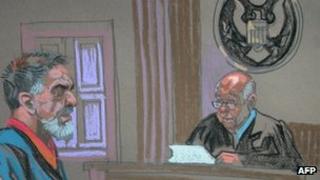 An Iranian-American man has unexpectedly pleaded guilty to plotting to assassinate Saudi Arabia's ambassador to the United States.
Former car salesman Manssor Arbabsiar, 58, admitted two charges of conspiracy and one charge of murder-for-hire.
Arbabsiar, arrested at an airport in New York on 29 September 2011, was due to stand trial in January 2013.
He told the court Iranian military officials were involved in the plot. Iran has strongly denied the plot.
He will now be sentenced on 23 January, where he faces up to 25 years in prison.
Agent 'Junior'
Arbabsiar was brought into court on Wednesday wearing handcuffs, and smiled several times during the proceedings, including in the direction of courtroom artists.
Despite saying he only understand about half what he read in English, he did not use a translator and spoke to the judge in English.
A Texas resident, Arbabsiar said he went to Mexico in 2011 to meet a man named Junior.
He said that he and others had agreed to arrange the kidnapping of the Saudi ambassador, Adel Al-Jubeir, but Junior said it would be easier to kill to him.
Junior "turned out to be an FBI agent", Arbabsiar said. In Mexico, Arbabsiar also agreed to hire a man he thought was a drug dealer, and agreed to pay him $1.5m (£927,000) to plant explosives at a Washington restaurant the ambassador would visit.
Arbabsiar seemed nervous and stumbled repeatedly in his answers during the plea procedure.
When asked his age, he looked confused and said: "Fifty-eight, I think."
Arbabsiar underwent a psychological evaluation in anticipation of a trial taking place, but defence lawyer Sabrina Shroff told the court on Wednesday that nothing had been found in the evaluation that would hold up the plea.
Judge John Keenan repeatedly asked Arbabsiar if he had intended to kill the ambassador. Arbabsiar, a US citizen who holds an Iranian passport, said he did.
When prosecutor Edward Kim asked Arbabsiar if officials in the Iranian military were involved in the plot, the suspect replied that they were.
He also admitted on Wednesday that he transferred a $100,000 (£62,000) down-payment for the attack from an overseas account through a Manhattan bank.
Prosecutors said that if the case had gone to trial they would have released secretly recorded conversations between Arbabsiar and a Drug Enforcement Administration informant.
Those conversations would show the informant's knowledge of explosives being procured for a plot to blow up the Saudi embassy in Washington, they said.