Canadian Sayfildin Tahir Sharif faces US extradition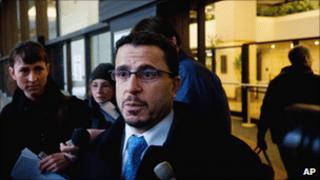 A Iraqi-born Canadian citizen should be extradited to the US on charges he was linked to at least two deadly suicide bombings in Iraq, a judge has ruled.
The judge in Edmonton, Alberta, said intercepted calls and emails suggested Sayfildin Tahir Sharif's involvement.
He is a accused of helping a group of Tunisian jihadists kill five American soldiers and seven people at an Iraqi police station in two separate attacks.
His lawyer said they would appeal against the extradition ruling.
If convicted of terrorism charges in the United States, Mr Sharif could face a maximum sentence of life imprisonment.
Mr Sharif, also known as Faruq Muhammad Isa, was born in Iraq but moved to Toronto as a refugee in 1993.
The prosecution said he was implicated by evidence culled from intercepted phone calls and internet traffic that allegedly showed him contacting members of a terror network as they made their way from Tunisia to Iraq to make the attack.
He was arrested in Edmonton in January 2011 at the request of the FBI.
The US justice department has accused him of backing a network, composed largely of Tunisians, that had carried out deadly suicide bombings in Iraq.
He is alleged to have been involved in one attack that killed five Americans and two Iraqi policemen in Mosul in April 2009.
That attack was the deadliest against US troops in more than a year.