Mark Thompson denies role in dropping Savile programme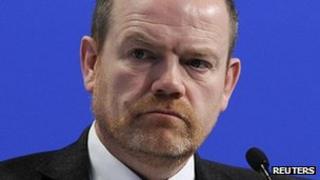 Former BBC Director General Mark Thompson says he played no part in the shelving of an investigative programme into TV presenter Jimmy Savile.
Mr Thompson, who is now the incoming chief executive of the New York Times, told the paper he had done nothing "that could be construed as untoward".
However, the paper's public editor has said it is "worth considering whether he is the right person for the job".
Claims of sexual abuse by Savile have emerged since his death last year.
Mr Thompson has previously said he is willing to answer questions from the parliamentary committee that quizzed his successor, George Entwistle, on Tuesday.
The former BBC boss told the New York Times he had not been aware of the investigative report prepared for the BBC's Newsnight programme until after it was dropped.
He said he had heard about the investigation from a reporter at a party last December and followed the conversation up with two officials in BBC News.
"I talked to senior management in BBC News and reported the conversation I had at the party, and asked was there a problem," he said.
He said he had been told that the programme would not be aired "for journalistic reasons".
Mr Thompson, 55, who headed the corporation from 2004 until September 2012, added: "There is nothing to suggest that I acted inappropriately in the handling of this matter.
"I did not impede or stop the Newsnight investigation, nor have I done anything else that could be construed as untoward or unreasonable."
He said he had been unaware of the nature of the allegations against Savile.
"I had no reason to believe that his conduct was a pressing concern," he said.
"Had I known about the nature of the allegations and the credible allegations that these horrific crimes had taken place during his time at the BBC and in the building at the BBC, I of course would have considered them very grave and would have acted very differently."
Reports say Mr Thompson does not have a special contract with the New York Times and either party can end the agreement at any time.
Mr Thompson is due to start at the New York Times on 12 November.
However, the paper's public editor Margaret Sullivan, who acts as an ombudsman, wrote in her blog that the company should "aggressively cover" Mark Thompson's role and "thoroughly report what it finds".
"His integrity and decision-making are bound to affect the Times and its journalism — profoundly. It's worth considering now whether he is the right person for the job, given this turn of events," she wrote.
Police have launched a criminal investigation into Savile, who died last year aged 84.
They have described him as a predatory sex offender and believe he may have abused many people - including young girls - over a 40-year period.