Hurricane Sandy: New York City transit suspended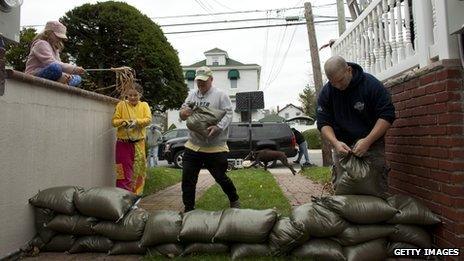 New York City's public transport system is to be suspended ahead of the arrival on Monday of Hurricane Sandy.
As many as 375,000 people have been ordered to evacuate low-lying areas, and schools will be shut.
Sandy's winds are set to intensify as it merges with a wintry storm from the western US. A number of states on the East Coast have declared an emergency.
Up to 60 million people could be affected by the storm, which is set to hit several states key to the 6 November presidential election.
The two presidential election contenders have modified their campaign engagements. President Barack Obama described the storm as "big, serious and slow-moving" - and said it would pose additional problems.
"It is important for us to respond big and to respond fast," he said after a meeting at the Federal Emergency Management Agency (Fema).
Asked whether the storm would affect the vote, Mr Obama said: "We don't anticipate that at this point but we're obviously going to have to take a look."
Republican candidate Mitt Romney cancelled an event scheduled for Sunday in Virginia, a key election state, because of the weather, and instead headed to Ohio.
Sandy has already killed 60 people in the Caribbean during the past week.
With winds of 75mph, it was expected to bring a "life-threatening" surge flood to the Mid-Atlantic coast, including Long Island Sound and New York Harbour.
The centre said winds were expected to be near hurricane force at landfall.
New York Mayor Michael Bloomberg said people needed to start taking action immediately.
He said the worst of the storm would hit New York on Monday, but warned that a storm surge expected later on Sunday could do "plenty of damage".
"I don't want anybody to go to bed tonight thinking that they can spend the day worrying about the night after," he said.
The mayor said 375,000 people living in low-lying areas should leave on Sunday.
In his warning, Governor Cuomo said he did not want to overreact, but to be "prudent". He urged people not in low-lying areas to stay at home.
Air travel has been badly hit, with some 5,000 flights cancelled.
Air France cancelled all flights into New York and Washington DC on Monday, while British Airways cancelled all Monday's flights to and from cities along the eastern seaboard, including New York, Baltimore, Washington, Boston and Philadelphia, with the exception of BA238 from Boston.
Virgin Atlantic cancelled Monday's flights to and from New York's JFK airport, Newark, Boston and Washington.
The New York Stock Exchange said its trading floor would be closed on Monday, but electronic transactions would still be possible.
Similar precautions were taken last year as Hurricane Irene approached the East Coast. It killed more than 40 people from North Carolina to Maine and caused an estimated $10bn (£6bn) worth of damage.
Fema director Craig Fugate said: "This is not a coastal threat alone. This is a very large area."
Its safety tips include preparations for and what to do during and after a hurricane.
While the East Coast is used to extreme weather, Sandy is causing concern to meteorologists who fear it could mutate into a "Frankenstorm" as it merges with a winter storm in the run-up to Halloween.
It is only moving north-east at 15mph, and could hit as many as 12 states, bringing up to 25cm of rain, 60cm of snow, extreme storm surges and power cuts.
States of emergency have been declared in Maryland, New York, Pennsylvania, Virginia, Washington DC and a coastal county in North Carolina.
The NHC said further strengthening was possible on Sunday, before Sandy touched down anywhere between Virginia and southern New England late on Monday.
In New Jersey, Governor Chris Christie pleaded with residents not to be complacent.
"I know everyone's saying this isn't going to happen… that the weathermen always get it wrong," he said.
He urged people to stock up on essentials in case they were trapped at home for a few days.
"We have to be prepared for the worst here. I can be as cynical as any of you but when the storm comes, if it's as bad as they're predicting it will be, you're gonna wish you weren't as cynical as you might otherwise have been."
Delaware has ordered a mandatory evacuation of 50,000 people from coastal areas.
Earlier in the week, Sandy caused havoc as it ploughed across the Caribbean, killing at least 44 people in Haiti, 11 in Cuba and four more in the Dominican Republic, Jamaica and the Bahamas.
Related Internet Links
The BBC is not responsible for the content of external sites.