American Greg Merson wins $8.53m world poker title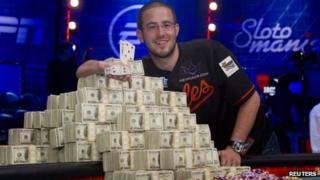 Professional US card player Greg Merson has won the World Series of Poker, going home $8.53m (£5.3m) richer.
Merson, aged 24, outlasted his final opponents in a marathon session that finished just before dawn after nearly 12 hours in Las Vegas, Nevada.
"I feel pretty good - got all the tears out so now I feel relaxed," the man from Maryland said after the game.
The no-limit Texas hold 'em series started in July with a field of nearly 7,000 players.
Jesse Sylvia finished in second place, netting $5.3m.
"That was nuts, man," the 26-year-old professional player from Las Vegas was quoted as saying by the Associated Press after the marathon match.
Before the final showdown, Merson and Sylvia eliminated Jake Balsiger, denying the the 21-year-old man from Arizona the chance of becoming the youngest World Series of Poker champion.
Balsiger's consolation, however, was a $3.8m cheque for the third place.