Republican Senate hopes hit by controversial candidates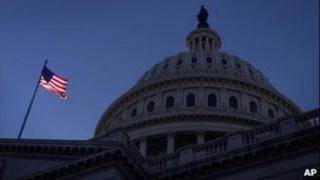 Voters in the US are also choosing the Senators and Representatives who will greatly influence how much the new president can hope to accomplish.
Most interest is focused on the Senate, where a third of the 100 seats are being contested.
The Democrats currently hold a 53-47 majority, but Republicans had been confident that would change.
However, a series of setbacks to their candidates have made no change in control the more likely outcome.
Polls suggest that Democrats are unlikely to pick up the 25 seats they would need need to regain control of the House of Representatives - where the entire 435 seats are at stake.
Some 11 state governorships are also up for grabs.
Divide
Republican confidence had been founded on their gains in the 2010 mid-term elections, when they narrowed the Democrat lead in the Senate and swept to an overwhelming 242-193 majority in the House.
Control of the Senate would allow them to roll back many of the reforms completed by President Barack Obama in his first-term - such as healthcare.
But analysts say the hiccups in the Republican campaign highlight the divide between those who steer the party and mainstream America.
In primaries, Republican voters overwhelmingly plumped for candidates to the right of the party.
In Indiana, for instance, the long-standing and distinguished Senator Richard Lugar was dumped in favour of Richard Mourdock, who was backed by money from the the anti-tax, limited government Tea Party movement.
Mr Lugar, who had held the seat for the past 36 years, had worked on occasions with the Democratic Party, notably on nuclear weapons proliferation.
That proved enough for the Tea Party sympathisers in the Republican Party to reject his bid for another term in favour of Mr Mourdock, who had vowed never to compromise with the Democrats.
But last month Mr Mourdock severely damaged his hopes of holding what should have been a safe seat by claiming that pregnancy resulting from rape was "something God intended to happen".
No change?
A second Midwestern Republican, Todd Akin, has also thrown away his lead in Missouri with similar comments on his opposition to abortion in instances of rape.
He claimed on national television that women who were victims of "legitimate rape" had biological defences to prevent them becoming pregnant.
Analysts say they felt free to set out such views because they were central to their successes in the primary process.
But they add that now that such views appear to have repelled voters, some Republicans are distancing themselves from the Tea Party element that proved so popular in 2010's congressional elections.
The Republican Senate candidate in Connecticut, Linda McMahon, has urged voters to back her and Barack Obama.
Republican control of Congress may be diminished but it is unlikely that Democrats can make sufficient gains to retake control of the House.
Polls suggest that after more than $2bn spent and two years of campaigning, the United States will wake up on Wednesday with no change in the White House, the Senate or Congress.
Referendums
No matter who gets elected in what capacity, expectations for the next Congress are low.
In a poll conducted by Bloomberg in September, 55% of respondents agreed with the statement that Congress would continue to be an impediment.
Just 32% agreed with the statement that Congress would get the message that lawmakers needed to work together on a bipartisan basis.
Americans will also vote on hundreds of local referenda on issues ranging from the legalisation of cannabis to condom use by porn stars.
Four states will vote on same-sex marriage.
Maryland and Washington DC are holding a referendum to strike down current legislation which allows the practice, Maine one to approve the possibility of men to marry men and women to marry women, while voters in Minnesota could limit the definition of marriage as "between one man and one woman".
The state of Oregon holds perhaps the strangest vote of the day, on the use of improved grammar and spelling in the state's constitution.