Canada explosion and fire: Two killed at Quebec plant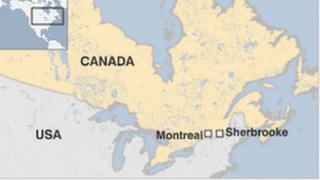 Two people have been killed and 19 injured by an explosion and fire at a health products plant in Quebec, Canada.
The blast in Sherbrooke could be heard for miles around. It led to a fire that produced plumes of thick, black smoke.
Environment Quebec said it was more concerned about soil or water contamination than by any threat from toxic smoke.
The cause of the explosion, which left the site in ruins, was not clear.
Firefighters found one survivor in the rubble.
"She was hiding in the debris and she was hiding because she was scared," said Rene Dubreuil, a police spokesman.
Another police spokesman described the scene as "chaotic", with injured people inside and outside the plant.
Of the 19 people taken to hospital, two were put in intensive care and four were transferred to a burns unit in nearby Montreal. Others were released or kept under observation.
Initial concerns about toxic smoke were due to the plant's reserves of 15,000 litres of acetone, which is flammable and can cause irritation if ingested.
The plant belonged to Neptune Technologies & Bioressources.