Jill Kelley named as FBI link in David Petraeus case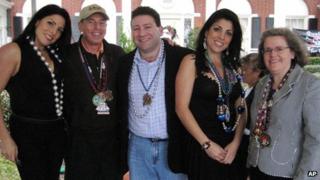 The woman who was the target of harassing emails from the lover of former CIA director David Petraeus has been named as Jill Kelley.
The FBI probe began after the Tampa resident reported receiving vicious emails accusing her of inappropriate behaviour with Gen Petraeus.
The investigation revealed the emails had come from Gen Petraeus' biographer Paula Broadwell.
Further inquiry revealed Mrs Broadwell had had an affair with Gen Petraeus.
Politicians now want to know why they were not told about the affair sooner, with the focus switching to whether there was any cover-up of the FBI investigation and the Petraeus-Broadwell affair.
There is no legal requirement for the FBI to tell members of Congress or the White House about ongoing investigations.
Senior officials at the FBI and the justice department were notified of the relationship in late summer after agents had ruled out any national security threat, according to US media reports.
The bureau interviewed Mrs Broadwell, 40, in late October, and she acknowledged the affair. FBI agents then interviewed Gen Petraeus the following week.
After speaking to the CIA chief, the FBI notified James Clapper, the director of national intelligence, who reports to the White House, on election day.
Mr Clapper then told Gen Petraeus to resign, and the following day informed the White House. Gen Petraeus offered President Barack Obama his resignation on Wednesday, and Mr Obama accepted it on Friday.
The 60-year-old four-star general, who left the army to head the CIA in 2011, described his behaviour as "unacceptable".
The FBI plans no charges in the matter. Adultery is a crime under military law, but the affair is reported to have begun after he left the army.
'Lightning bolt'
On Sunday, US officials named the woman who received the disturbing emails as Jill Kelley.
She lives in Florida and has been identified as an unpaid "social liaison" to MacDill Air Force Base in Tampa, where US Central Command is located and where Gen Petraeus worked from 2008 to 2010.
They describe the 37-year-old from Florida as a family friend of Gen Petraeus and his wife, Holly.
There is no suggestion that Mrs Kelley, who works as an unpaid social liaison at a military base in Tampa, has had an affair with the former CIA boss.
In a statement, Mrs Kelley and her husband acknowledged their friendship with Gen Petraeus and asked for privacy.
"We and our family have been friends with Gen Petraeus and his family for over five years. We respect his and his family's privacy and want the same for us and our three children," she said.
This has now triggered angry reaction from both Democratic and Republican politicians, who are asking whether national security could have been compromised.
"We received no advanced notice. It was like a lighting bolt," said Democratic Senator Dianne Feinstein, who leads the Senate Intelligence Committee.
Republican Peter King, chairman of the House Homeland Security Committee, said he wanted to know why the FBI only tipped off the White House on election day.
"It doesn't add up," he said.
The FBI says it followed protocol, and had found nothing suggest any threat to national security.
Congressional officials have said they still hope to hear from Gen Petraeus in an investigation into the 11 September attack on a US consulate in Benghazi, Libya that killed four Americans.
Gen Petraeus was scheduled to testify on Thursday, but the acting CIA director will now take his place.
"I don't see how in the world you can find out what happened in Benghazi before, during and after the attack if Gen Petraeus doesn't testify," Republican Senator Lindsey Graham told CBS News on Sunday.
On Monday, a former top aide to Gen Petraeus told ABC News the general was "devastated" and that Holly Petraeus, his wife of 38 years, was "furious".
Mr Petraeus became CIA boss in 2011 after heading international forces in Iraq and later in Afghanistan.
He was the highest-profile military officer of the post-9/11 years, winning plaudits for his role running the "surge" in Iraq and implementing a counter-insurgency strategy in Afghanistan.
He left his command role in Afghanistan in mid-2011, resigning from the US Army to head the CIA after Leon Panetta became defence secretary.