White House backs Gen John Allen amid Petraeus fallout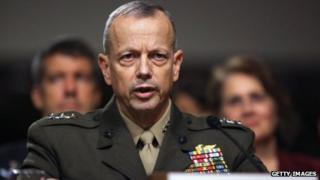 US President Barack Obama has backed a senior general, despite reports that he exchanged "flirtatious" emails with Florida socialite Jill Kelley.
Spokesman Jay Carney said Mr Obama had "faith" in Gen John Allen, chosen to be the next Nato commander in Europe.
Harassment allegations by Mrs Kelley helped unmask an affair between CIA Director David Petraeus and his biographer Paula Broadwell.
Gen Petraeus resigned on Friday. Gen Allen says he has done nothing wrong.
"I can tell you that the president thinks very highly of Gen Allen and his service to his country, as well as the job he has done in Afghanistan," spokesman Jay Carney said, in the first White House reaction since Gen Petraeus quit.
He added that President Barack Obama was "very happy" with Gen Allen's service and record.
Mr Carney also asked reporters "not to extrapolate too broadly" about whether the cases involving Gen Petraeus and Gen Allen suggested a wider cultural problem within the US military.
"He has great confidence in the acting CIA director, the secretary of defence and the defence department to carry out the missions he has asked of them," Mr Carney added.
In his first public comments on the scandal, Secretary of Defence Leon Panetta said he fully supported Gen Allen.
"No-one should leap to any conclusions here. General Allen is doing an excellent job," Mr Panetta told a news conference in Australia.
"He certainly has my continued confidence to lead our forces and to continue the fight."
Nomination on hold
Mr Panetta has already announced an investigation of Gen Allen and an examination of the 20,000-30,000 pages of emails and other messages to Mrs Kelley.
An anonymous senior US official who has read the emails told the Associated Press that the exchanges were relatively innocuous, even though they might be construed as unprofessional and flirty.
The official said the emails included pet names such as "sweetheart" and "dear", but did not suggest an affair or the exchange of classified information.
Gen Allen, 58, took over command of coalition forces in Afghanistan after David Petraeus moved to the CIA in 2011.
Currently commanding 68,000 US troops in Afghanistan, Gen Allen was due to face a confirmation hearing in the US Senate on Thursday for his new role as supreme commander of Nato forces in Europe.
That hearing has now been suspended at the request of Mr Panetta.
In a statement on Tuesday, the Senate Armed Services Committee said its members expected the change of command in Europe to take place no later than March 2013.
Web of emails
The expansion of the scandal to engulf Gen Allen follows a dramatic weekend in which details emerged of how the FBI discovered that CIA chief David Petraeus, 60, was conducting an extramarital affair with his biographer, Paula Broadwell.
In May, Mrs Kelley, a 37-year-old married woman described as a fixture on the social scene at MacDill Air Force Base in Tampa, Florida, alerted the FBI that she had been receiving anonymous and allegedly threatening emails.
She initially informed an acquaintance at the FBI, who has not been identified.
It appeared the communication was coming from a woman urging her to stay away from Gen Petraeus.
When the FBI began investigating, those emails were traced to Gen Petraeus' biographer Paula Broadwell, 40, who lives in North Carolina with her husband and two children.
Her home was searched late on Monday, with up to 10 FBI agents scouring the property for about four hours.
They were seen leaving the house with desktop computers, a printer, a briefcase and several cardboard boxes.
In Florida, Mrs Kelley and her husband were reported to have been friends with Holly and David Petraeus for several years, but details emerging on Monday suggested that she was also close to Gen Allen.
Both Gen Petraeus and Gen Allen were said to have intervened in a custody dispute on behalf of Mrs Kelley's twin sister.
Gen Allen, a four-star Marine Corps general, succeeded David Petraeus as the top American commander in Afghanistan in July 2011.
He was deputy commander of US Central Command (Centcom) before taking over in Afghanistan. He is also a veteran of the Iraq war.
Gen Petraeus's affair with Mrs Broadwell began after the general retired from the army and about two months after he became director of the CIA and ended about four months ago, according to one of his friends.
Gen Petraeus joined the CIA in September 2011 after heading international forces in Iraq and later in Afghanistan.
The spymaster had been due to testify before a closed-door congressional committee meeting about a 11 September 2012 attack on the US consulate in Benghazi, Libya, that killed the ambassador and three other Americans.
Acting CIA director Michael Morell will testify in his place on Thursday, although Gen Petraeus may be called at a later date.