Petraeus scandal: Broadwell and Kelley's access revoked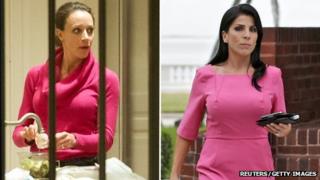 The US military has revoked access for two women at the heart of the scandal that led to Friday's resignation of Gen David Petraeus as CIA director.
Security clearance has been suspended for his ex-mistress, Paula Broadwell.
And Jill Kelley's pass at the Florida air force base where she organised social events has been frozen.
An FBI inquiry into Mrs Kelley's complaints of email harassment revealed that Mrs Broadwell and Gen Petraeus had been having an affair.
Mrs Broadwell, a 40-year-old married mother of two, had apparently sent the anonymous emails to Mrs Kelley warning her to stay away from Gen Petraeus.
Those emails prompted Mrs Kelley to report the matter to a veteran FBI officer, now identified as Frederick Humphries.
Mr Humphries was described by one former colleague as a diligent agent.
He knew Jill Kelley socially and she turned to him when she sought answers about the messages she was receiving.
The investigation that he began led to the discovery of the affair between Gen Petraeus, 60, and Mrs Broadwell. It also enveloped Afghanistan commander Gen John Allen.
Obama's backing
Mrs Broadwell, who wrote a biography of Gen Petraeus, held a security clearance through her work as a reserve Army intelligence officer.
It is not uncommon for those under investigation to have such clearance suspended, officials say.
An investigation is under way into how classified material ended up on the West Point graduate's computer and in her Charlotte, North Carolina home, which was searched by the FBI on Monday.
Meanwhile, a Pentagon spokesman said suspending Mrs Kelley's pass for MacDill Air Force Base was in the best interests of the local military community.
He confirmed the 37-year-old married mother of three would be able to enter the base, near Tampa, but only through the visitors' centre.
She had been described as a "social liaison" for the facility, which is the home of US Central Command.
In his first public comments on the scandal, US President Barack Obama told reporters on Wednesday he had seen no evidence that Gen Petraeus' extramarital affair compromised national security.
His resignation should be a "sidenote" to a distinguished career, said Mr Obama.
Gen Petraeus, who previously commanded the war effort in Iraq and Afghanistan, will testify on Friday to Congress about September's deadly attack on the US consulate in Libya.
He will not be questioned about his affair with Mrs Broadwell, said lawmakers.
Meanwhile, General John Allen, the top US commander in Afghanistan, said he plans to "fully co-operate" with an investigation into allegedly flirtatious emails he sent to Mrs Kelley, his lawyer said on Wednesday.
Adultery is illegal under military law, and Pentagon officials are sifting through thousands of pages of correspondence involving the married Gen Allen, 58, and Mrs Kelley.
Extravagant parties
He is said to have addressed her as "sweetheart" and "dear" in the communication, although the messages are not said to be overtly sexual.
The commander, who has received the backing of President Obama and Defence Secretary Leon Panetta, insists he did nothing wrong.
But Mr Panetta said on Wednesday that suspending Gen Allen's nomination to be the top Nato commander in Europe, pending an inquiry, was the "prudent" thing to do.
Mrs Kelley is said to have developed close friendships with Gen Petraeus and Gen Allen. Both men wrote letters supporting her twin sister in a messy custody dispute.
Mrs Kelley is known to have thrown extravagant parties for officers posted to MacDill and was appointed in August as an honorary consul representing South Korea.
In a recording of a phone call to police on Monday, Mrs Kelley asked for diplomatic immunity to have media crews outside her house removed.
"I'm an honorary consul general, so I have inviolability, so they should not be able to cross my property," Mrs Kelley can be heard saying.