New York bomb plotter Adis Medunjanin sentenced to life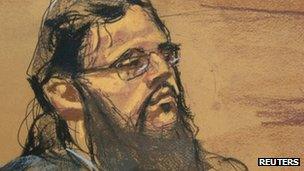 A Bosnian-born US citizen has been sentenced to life in prison over a plot to bomb the New York subway.
Adis Medunjanin, 34, was convicted in May of multiple US terrorism offences, including conspiring to use weapons of mass destruction.
Two former schoolmates who helped to plan the attack had pleaded guilty and testified against Medunjanin.
The men were trained by al-Qaeda in Pakistan before agreeing to participate in the plot, prosecutors said.
The attack was planned to coincide around the eighth anniversary of the 9/11 attacks, but was foiled when the trio realised law enforcement officials were following them.
During the trial, defence lawyers argued that US agents unfairly coerced Medunjanin and intimidated his family, admitting that Medunjanin wanted to fight for the Taliban but did not want to cause death in the city where his family had settled.
Medunjanin was arrested in January 2010 after deliberately trying to crash his car on a busy New York expressway in what prosecutors said was a final attempt at committing murder for his cause.
"Justice demanded a sentence of life for this al-Qaeda operative, who was dedicated to mass murder and destruction in the New York City subways," US attorney Loretta Lynch said.
"Scores of innocent New Yorkers would have been killed or maimed had Medunjanin succeeded."
Appearing at a US court in New York for the hearing, Medunjanin read from the Koran in Arabic for several minutes before Judge John Gleeson interrupted and asked him if he intended to say anything in English.
Medunjanin asked for more time to finish one verse, then shifted into a critique of American foreign policy.
"What kind of system endorses torture?" he said, as some of his relatives wept. "Is this really the best system that humanity ever produced?"
He maintained his innocence, saying he had "nothing to do with any subway plot or bombing plot whatsoever".
Judge Gleeson told Medunjanin his remarks made him appear like an robotic "exhibit" of extremism, and had created "the impression that you're asking me to sentence you like the committed, anti-American jihadist you seem to want to be for the rest of your life".
Medunjanin showed no emotion as the sentence was announced. His family declined to speak to reporters as they left the sentencing.
During the trial, Najibullah Zazi, who admitted masterminding the plot, and Zarein Ahmedzay, who were both went to high school with Medunjanin, testified against him, likely in hopes of lighter sentences.
They testified that they had travelled to South Waziristan, Pakistan, with Medunjanin in 2008. There, they were trained by members of al-Qaeda and were encouraged to plan suicide-bombing missions when they returned home.
They told the court that they had considered targeting the New York Stock Exchange, Times Square and Grand Central station.
Zazi testified that they targeted New York's subway trains at rush hour because it was "the heart of everything in New York City".
He said he had learned to distil ingredients for explosives from products such as nail varnish remover that are sold at pharmacies.
Zazi also told the jury that they dropped the plot, which was partly paid for with $50,000 (£31,000) in credit card charges, when he noticed a car following him in New York.
"I think law enforcement is on us," Zazi remembered telling Ahmedzay. He said he sent a text message to Medunjanin that said: "We are done."
The two are awaiting their sentencing hearings, currently scheduled for next year.