What did Barack Obama achieve in Burma?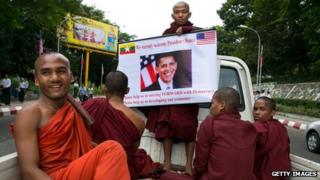 The prestige of a US presidential visit is a scarce resource that American administrations use carefully to ensure they achieve the best results. So what did the US get out of President Barack Obama's trip to Burma - and what did Burma get out of it?
There were human rights groups who argued that it was too soon to play this trump card; that the Obama administration failed to secure concrete concessions on human rights from the Burmese government before committing itself to a presidential visit.
In the end the government did announce a series of initiatives: investigating remaining political detainees, ensuring the International Committee of the Red Cross (ICRC) access to prisons, reducing conflict in border areas and several other actions it said would help protect human dignity and advance democratisation.
US officials will be able to use this public list to try to hold their Burmese counterparts to their promises. It also released 66 more prisoners, including a substantial number of political detainees.
But that isn't what this visit was about.
Outsiders
The long decades of isolation - some of it self-imposed, in the 1960s and 70s, under the disastrous military-led "socialist" experiment, some of it imposed by outsiders in the form of sanctions - have left Burma without the diplomatic connections that sustain a healthy exchange of views and ideas among nations.
Burma's rulers have little experience of engaging with other countries, and how Burma's leaders think, what motivates them, remains a mystery to most other governments.
To jump-start a new relationship with Burma, where personal connections with officials are so sparse, symbols can help. And few are as potent as a visit by a charismatic president like Barack Obama. He understood that, and calibrated the symbols to balance the competing expectations of him.
For the first time he used the country's official name, Myanmar, which greatly pleased government officials.
The US still has a policy of using the old name, Burma, because it views the name-change as something done by a military government without consulting the Burmese people.
But he also asked to meet President Thein Sein in Rangoon, not the new capital Nay Pyi Taw, a project closely associated with the old regime.
And he met Aung San Suu Kyi in the lakeside home where she spent her 15 years of house arrest.
Just being there, with her, an inconceivable meeting two or three years ago, was a powerful symbol of Mr Obama's support for the democratic forces in Burma. And that meeting was notably warmer and less formal than with the president.
Universal principles
He chose the crumbling campus of Rangoon University to deliver a speech, where protest movements started against British colonial rule and later against the military leadership.
In the 1990s, student life was largely shut down when the military forced undergraduate students to move to the outskirts of Rangoon.
In that speech Mr Obama made some hard-edged points that would have been uncomfortable listening for his Burmese audience.
He stressed the need to put the military under full civilian supervision. In Burma's "hybrid democracy", the armed forces are unaccountable to the government and are guaranteed a quarter of the seats in parliament. Not good enough, he said.
His strongest comments were about the Muslim Rohingya minority, whose treatment he compared to the racism that once held back African-Americans like himself.
"What we've learned in the United States is that there are certain principles that are universal - that apply to everybody, no matter what you look like, no matter where you come from," Mr Obama said.
"No matter what religion you practise. The right of people to live without the threat that their families may be harmed or their homes may be burned simply because of who they are."
Already Rakhine Buddhist politicians, who have been backing campaigns to drive the Rohingyas out of Burma, have expressed their disappointment with the speech.
At times it felt like a lecture, warning the Burmese of the many problems they still have to overcome, despite all the progress of the last year.
But it did answer the fears of human rights groups that Mr Obama might be too soft in his eagerness to celebrate this single success in his policy of extending the hand of friendship to former foes.
And I did not meet a single Burmese who was not excited by the sight of a US president in their own country.
It seemed to be the confirmation they had been looking for that the political transformation which began so unexpectedly last year is real.