Three sentenced in plot to blow up Ohio bridge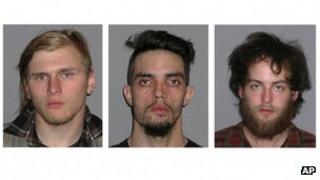 Three self-described anarchists who plotted to blow up an Ohio bridge have been sentenced to jail terms ranging from eight to more than 11 years.
Ringleader Douglas Wright, 26, as well as Brandon Baxter and Connor Stevens, both 20, apologised in court.
The group, five in total, planned to attack a four-lane bridge 15 miles (24km) from central Cleveland.
They were arrested in May during a sting operation, as part of an investigation launched in October 2011.
A fourth defendant is being sentenced on Wednesday, while a fifth is undergoing a psychiatric exam.
The public was not in danger because the explosives did not work and were being controlled by an undercover agent, the FBI said.
None of the suspects is associated with foreign terror groups.
At the hearing in Akron, Ohio, District Judge David Dowd sentenced Wright to 11-and-a-half years, Baxter to nearly 10 years and Stevens to over eight years.
The judge ruled last week that the men should be sentenced as terrorists, making them subject to harsher prison terms.
Prosecutors said the trio had acted out of anger against corporate America and the government.
After serving their prison terms, all three men will be under supervised release for the rest of their lives.
Earlier, they pleaded guilty to several charges, including conspiring to use a weapon of mass destruction.