Puerto Rico boxer Hector Camacho wounded in shooting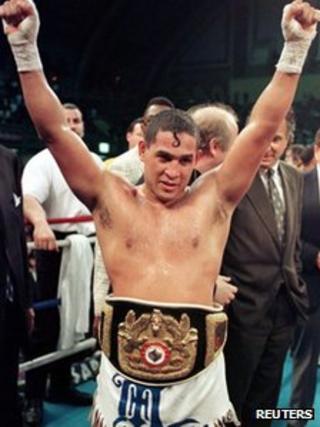 Puerto Rican former boxer Hector "Macho" Camacho is in a critical condition after being shot in the face.
The winner of three world titles was wounded in a drive-by attack outside the capital, San Juan, on Tuesday.
He suffered a heart attack in hospital overnight and doctors say his condition is now "very poor".
The director of the hospital treating him, Dr Ernesto Torres, told reporters: "This is the toughest fight in the life of Macho Camacho".
"His heart has stopped working. We can give him medicine and his heart will pump again. There is brain activity, but very low. Right now, we can't do anything."
Camacho, 50, was sitting in a car outside a bar on Tuesday with a friend when it was fired on.
His friend, Adrian Mojica Moreno, was killed in the attack. Police say they do not know of any motives for the shooting.
Camacho fought some of the great names of boxing - Oscar de la Hoya, Sugar Ray Leonard and Felix Trinidad.
But he has courted controversy in recent years, being convicted of burglary, found in possession of drugs and being the subject of domestic abuse complaints from his former wife.
He has continued to box, losing a fight to Saul Duran in May 2010, and had been discussing another bout next year.