Eureka: Two dead and son missing in dog surf rescue bid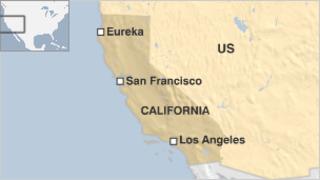 A couple drowned and their 16-year-old son is missing after trying to save their dog from being swept into the ocean, California authorities say.
The dog chased a stick into the surf in Big Lagoon and was pulled out to sea by 10ft-high waves (3m), the Associated Press reported.
The boy ran in after the dog, followed by his parents. Humboldt County sheriff's office rescuers found the parents' bodies later.
The dog swam to shore on its own.
After the parents and the son disappeared into the waves on Saturday. the couple's daughter alerted authorities, the Times-Standard newspaper reported.
The US Coast Guard was called to the scene about 30 miles (50km) north of Eureka, California about 12:40 local time on Saturday.