Toronto Mayor Rob Ford ordered to step down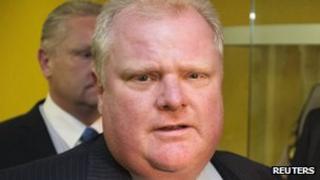 The mayor of Toronto has been ordered to resign after being found guilty of violating conflict of interest rules.
Rob Ford improperly voted in a city council inquiry into whether he should repay donations he had solicited for his sport charity, a judge in Ontario, Canada, ruled on Monday.
Mr Ford blamed the finding against him on a crusade by "left-wing" critics.
He said he would appeal against the ruling, which takes effect in 14 days, and he vowed to run for re-election.
"Sometimes you win, sometimes you lose," Mr Ford told reporters at his office on Monday.
"It comes down to the left-wing politics. The left-wing wants me out of here and they'll do anything in their power. I'm going to fight tooth and nail to keep my job as mayor."
Ethical rules 'broken'
The ruling by an Ontario Superior Court justice to eject Mr Ford from office stems from a city council inquiry into whether Mr Ford, as a city councillor, improperly used his staff in 2010 to send out appeals for donations for a football charity he had founded, CBC News reported.
Toronto's integrity commission subsequently ruled Mr Ford had broken ethical rules for councillors and ordered him to repay donations totalling CAN$3,150 (£1,978).
In February, Mr Ford voted on a Toronto council measure to reject the commission findings. The measure passed and the council took no further action.
A Toronto resident then complained Mr Ford should not have been allowed to weigh in on the measure in the council because it dealt with his own conduct. That complaint launched the current court case.
In September, Mr Ford testified he had never read conflict of interest rules and said he had done nothing wrong.
Ontario Superior Court Justice Charles Hackland on Monday found Mr Ford's "ignorance of the law" amounted to "wilful blindness".
"His actions were not done by reason of inadvertence or a good faith error of judgment," he ruled.