US tennis judge Lois Goodman sees murder case dismissed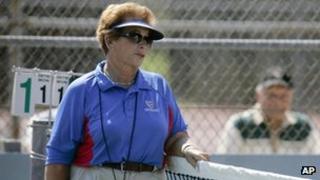 The case against a US Open tennis judge accused of bludgeoning her husband to death with a mug has been dropped.
Charges against Lois Goodman, 70, were dismissed after prosecutors said they received more information and there was insufficient evidence.
"I feel I'm being treated fairly now," Mrs Goodman said. "It was just a terrible accident."
She was arrested by Los Angeles police in New York in August as she arrived to be a line judge at the tournament.
Mrs Goodman made her first court appearance wearing her uniform.
'Living hell'
Alan Goodman, 80, died in April, and Mrs Goodman told police he had fallen down the stairs in their Los Angeles condominium while she was at a match. Police later declared it a homicide.
The LA district attorney's office would not elaborate on the new information that led to the case's dismissal.
But Alison Triessl, Mrs Goodman's defence lawyer, said she believed private lie-detector tests by a former FBI polygraph examiner were pivotal in proving Mrs Goodman's innocence.
The case can be refiled but Ms Triessl believes it is over.
"We're elated," she said. "This has been a living hell for her. Justice has been served."