US man shoots ex-wife at church organ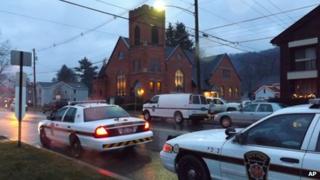 A US music teacher has been charged with shooting dead his ex-wife while she played the organ in church.
Gregory Eldred, 52, is in custody accused of shooting dead Darlene Sitler about 20 minutes into the service on Sunday in Pennsylvania.
Court papers say he then threatened to shoot the pastor and two other worshippers who confronted him.
The 53-year-old victim was organist and choir director at the First United Presbyterian Church of Coudersport.
Mr Eldred has been a music teacher to young students in Coudersport since 1986.
His ex-wife also taught music at a primary school in a neighbouring district, Northern Potter, for 30 years.
The school superintendent there said the couple had been divorced for several years.