Los Angeles port disrupted by seven-day strike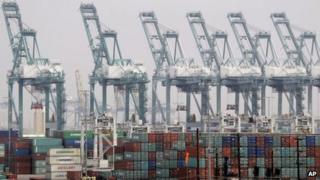 A strike at the port of Los Angeles has entered a seventh day, disrupting the nation's busiest shipping complex.
Unionised clerical workers are fighting to keep current hiring practices.
About unionised 10,000 dockworkers have joined the clerical workers, refusing to cross picket lines to load and unload cargo.
The strike has brought to a standstill three-quarters of the estimated $1bn (£621m) a day in cargo that passes through the port.
As a result, the strike has also left thousands of truck drivers at a standstill and threatens to create shortages for wholesalers and retailers around the country if it continues.
'Corporate greed'
Los Angeles Mayor Antonio Villaraigosa says both sides have agreed to federal mediation, and the BBC's David Willis in Long Beach says the mediator from Washington DC is due to arrive by 20:00 PT (04:00 GMT).
A union official says the strike will continue in the meantime.
The International Longshore and Warehouse Union represents about 800 clerks at the ports of Los Angeles and Long Beach.
Union spokesman Craig Merrilees says the mayor's efforts have helped bring both sides closer together, but there still is much work to do.
Both sides agree that salaries, holiday and pension benefits for current employees are not an issue in the negotiations. But the clerical workers have not had a contract since June 2010, the Los Angeles Times reports.
At question are proposed changes in hiring practices that port management representatives say would give shippers the ability to avoid hiring unneeded employees.
"Rather than having artificial staffing levels, we're saying give us the ability to make decisions based on need, and we think that's a reasonable request," management spokesman Steve Getzug said.
Unions counter that management wants to outsource jobs to places such as Taiwan and China, where shippers can pay lower wages for work that can be done by computer.
"It's important to us to keep those jobs here in the United States," Mr Merrilees said. "We're fighting against corporate greed."
On Tuesday, Mr Villaraigosa told reporters that the parties negotiated throughout the night.
"I'm hopeful that the mediator will be here today," he said. "We've got to get a deal and get a deal as soon as possible."