Trayvon Martin gunman George Zimmerman sues NBC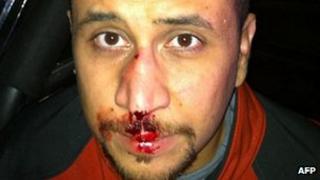 The man facing a murder charge over the killing of Florida teenager Trayvon Martin is launching legal action against a US TV network.
Lawyers for George Zimmerman are seeking punitive damages from NBC over edits of a police call he made on the night Trayvon Martin was killed.
They allege heavily edited extracts of the call made Mr Zimmerman appear racist in the eyes of the public.
NBC fired two staff over the edits, but said it would contest the lawsuit.
In a statement, NBC strongly denied the accusation: "We strongly disagree with accusations made in the complaint," the network said.
"There was no intent to portray Mr Zimmerman unfairly. We intend to vigorously defend our position in court."
Reporters Lilia Rodriguez Luciano and Jeffrey Burnside - named alongside NBC in the complaint - were fired after details of the edited audio recordings first emerged.
NBC also apologised to its viewers over the incident and said editorial controls had failed.
In the lawsuit, Mr Zimmerman's lawyers contend that the network maliciously edited a call he made to police in Sanford, Florida, to alert them to what he saw as suspicious behaviour by a man near his home.
On his website, Mr Zimmerman said the narrative that he was a violent racist spread quickly and easily in the weeks after the shooting on 26 February, and have since seriously affected his life.
It was aided and abetted, he said, by NBC's "lies and falsifications".
"This lawsuit is a product of NBC's intentional distortions of facts," he wrote.
"I do not know, because of my situation, how I will be able to provide for my wife and myself in the future, so I expect NBC to be held responsible."
'Strongly disagree'
The two edits detailed in the complaint saw portions of a lengthy call compressed and spliced together.
The result was that a short audio clip broadcast featuring Mr Zimmerman talking to police prominently included an apparently unprompted description of Trayvon Martin's race.
"This is a real suspicious guy. Ah, this guy looks like he is up to no good or he is on drugs or something. He looks black," Mr Zimmerman said in the broadcast clip.
However, the actual conversation was longer and more nuanced, the lawsuit says.
According to the unedited conversation, Mr Zimmerman was asked directly by the dispatcher whether the man in question was "white, black or Hispanic".
He then replied "He looks black" as included in the broadcast clip.
Mr Zimmerman's lawyers allege that that edit - as well as another also broadcast on NBC - deliberately "set about to create the myth that George Zimmerman was a racist and predatory villain".
"NBC saw the death of Trayvon Martin not as a tragedy but as an opportunity to increase ratings," the defamation lawsuit says.
"NBC created this false and defamatory misimpression using the oldest form of yellow journalism: manipulating Zimmerman's owns words, splicing together disparate parts of the (police) recording to create the illusion of statements that Zimmerman never actually made."
Mr Zimmerman, now 29, has always denied intending to kill Trayvon Martin, 17. He insists he acted in self-defence, and his legal team is seeking to contest a charge of second-degree murder at a trial in June 2013.