Oscar statue-maker lays off nearly 100 employees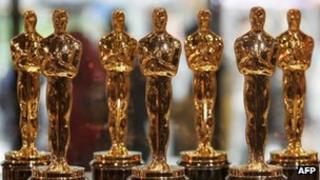 The US company that makes gold-plated Oscar statuettes is shedding dozens of workers, following financial struggles.
Chicago-based RS Owens & Co said that it would lay off 95 staff permanently on 17 December. It has been making the Oscar statuettes for about 30 years.
The firm, which has about 250 employees, notified the Illinois Department of Commerce of the lay-offs.
Last month, the company announced it was being acquired by St Regis Crystal Inc, of Indianapolis.
A news release on the sale said the company would continue to make Oscar statuettes in Chicago.
The 24-carat gold-plated Oscar figurine depicts a sword-wielding knight standing on a reel of film.
Costing about $18,000 (£11,000), each one is 13.5in (34cm) tall and weighs 8.5 lb (3.9kg).
The statuettes are presented to stars from the world of film at the Academy Awards, which take place annually in Los Angeles in February or March.