Three shot dead in Tule Indian Reservation, California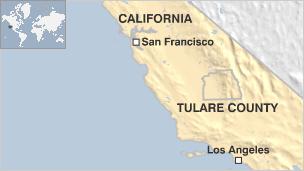 Three people have been shot dead in the Tule Indian Reservation in California, police say.
A suspect, Hector Celaya, has been arrested. It followed a car chase which ended in an exchange of fire in which Mr Celaya was seriously wounded.
The bodies of two men and a woman were found at or near Mr Celaya's trailer in Tulare County in central California.
Local police said they had been informed that Mr Celaya had fled his trailer after reports of a shooting.
Police pursued him in a low-speed car chase - sometimes as slow as 15mph (25km/h).
Among three people wounded were his two young girls - one with life-threatening injuries, local media said.
Related Internet Links
The BBC is not responsible for the content of external sites.