Navy Seal Team Six member killed in Afghan mission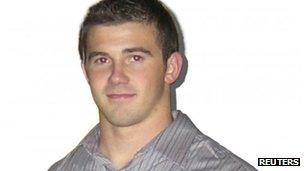 A US Navy Seal killed during a mission to rescue a doctor kidnapped by the Taliban was a member of Seal Team Six, the unit that killed Osama Bin Laden, US officials have revealed.
Petty Officer 1st Class Nicolas Checque was killed during a joint US-Afghan operation to free Dr Dilip Joseph.
It is not clear if he took part in the Bin Laden raid.
President Barack Obama said the US rescue team had shown "selfless service" in carrying out the raid.
"Tragically, we lost one of our special operators in this effort. Our thoughts and prayers go out to his family, just as we must always honour our troops and military families," the White House said in a statement.
PO Checque, 28, who was from the eastern state of Pennsylvania, died of combat-related injuries, the Pentagon said. The defence department gave no further details about the pre-dawn mission.
US officials revealed PO Checque's identity and association a day after reporting a US casualty.
In a statement issued by Morning Star Development, Dr Joseph's aid organisation, his family expressed gratitude for the soldier's heroism and "for the bravery of all involved in the mission".
Dr Joseph and two Afghan colleagues from the aid group were captured by Taliban insurgents on 5 December while returning from a rural medical clinic in the Sarobi district of Kabul province, near the Afghan capital.
They were then taken to a mountainous area about 80km (50 miles) from the Pakistan border.
The US commander in Afghanistan, Gen John Allen, said he ordered the mission when intelligence showed the doctor was in danger of being killed or injured.
Related Internet Links
The BBC is not responsible for the content of external sites.