Manhattan shooting suspect shown in CCTV footage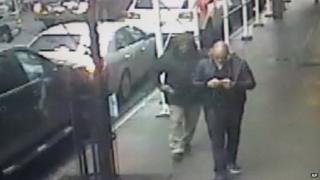 New York police have released a CCTV photo showing a man pulling a weapon moments before shooting a man dead in midtown Manhattan on Monday.
Los Angeles resident Brandon Lincoln Woodard, 31, was shot in the back of the head near busy Columbus Circle.
Police are seeking help to identify the gunman, who they said escaped in a getaway car.
Mayor Michael Bloomberg said on Tuesday that the killing "was not a random thing as far as we can tell".
The video footage shows the attacker, who appears to be bald and bearded, emerge from the passenger side of a parked vehicle about 10 minutes before the shooting, near a corner of Central Park.
The shooter pulled the hood of his jacket over his head before approaching Woodard.
The victim, who had reportedly attended law school in California, had a criminal record.
In the Los Angeles area, he was arrested in April on a felony charge of cocaine possession. Court records show that in 2009 he was sentenced to probation for theft and hit-and-run driving.
He also admitted a misdemeanour battery charge after a backstage scuffle with a member of security staff at a concert in Las Vegas in 2004.