Newtown shootings: Students return to school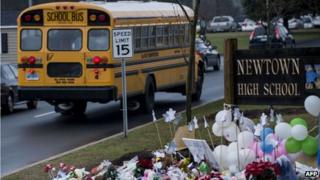 Students in Newtown, Connecticut have returned to school after a mass school shooting on Friday that killed 20 children and six adults.
"This is a day to start healing," Newtown High School's head teacher said in a email to parents.
Sandy Hook Elementary School, where the shooting took place, remains closed as it is still an active crime scene.
Funerals for those murdered continued on Tuesday, after the first victims were buried on Monday.
The gunman, Adam Lanza, shot dead his own mother before driving to the school and then took his own life as police approached him.
'Be strong, Newtown'
Newtown's schools began their day two hours late, with grief counsellors and police present, but students were not expecting to get very much work done.
"We're going to be able to comfort each other and try and help each other get through this because that's the only way we're going to do it," 17-year-old PJ Hickey told the Associated Press. "Nobody can do this alone."
"It really hasn't sunk in yet," Tate Schwab, another student at Newtown High School said. "It feels to me like it hasn't happened. It's really weird."
It was unclear how many of the town's 4,700 students would attend classes.
"Our collective strength and resilience will serve as an example to the rest of the world," Charles Dumais, the high school's head teacher wrote in a blog post, entitled "The Beginning".
"Be strong, Newtown."
Connecticut Governor Dannel Malloy has signed an executive order allowed a unused school in neighbouring Monroe to serve as a temporary school for the surviving students and teachers at Sandy Hook.
On Monday, the first two funerals for shooting victims, Noah Pozner and Jack Pinto, both six, were held. Funerals were expected on Tuesday for James Mattioli and Jessica Rekos, also six-years-old.
Gun control debate
The shooting has revived a debate over gun laws in the US, with several pro-gun politicians, in addition to gun-control advocates, calling for changes in current legislation.
On Monday Mr Obama met Vice President Joe Biden, Education Secretary Arne Duncan, Attorney General Eric Holder, and Health and Human Services Secretary Kathleen Sebelius to discuss proposals aimed at reducing gun violence.
Mr Biden will be put in charge of the initiative, the Washington Post said, quoting unnamed sources close to the government.
Earlier, White House spokesman Jay Carney said tighter gun control laws were part of the answer to violence in the US.
"It's a complex problem that will require a complex solution," Mr Carney said. "No single piece of legislation, no single action will fully address the problem."
He added that the president supported reinstating an assault weapons ban that expired in 2004.
Correspondents say Democrats have been reluctant to pursue gun control legislation, but that there are signs that fear could be abating.
Before trading began on Wall Street on Tuesday a US private equity firm said it would sell its stake in the maker of the Bushmaster AR15 rifle, the weapon used in the Newtown school shootings.
Dick's Sporting Goods, a US chain, also announced it would suspend sales of modern sporting rifles in all stores, and remove all guns from a display at its store closest to Newtown.