Failed Supreme Court nominee Robert Bork dies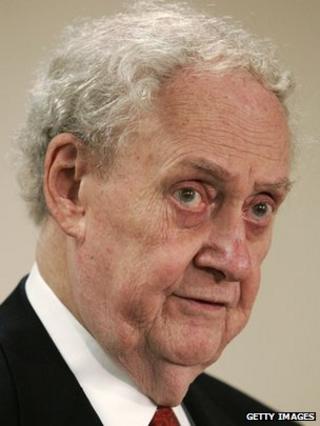 Robert Bork, the former US solicitor general and failed Supreme Court nominee, has died aged 85.
His son said Bork had died on Wednesday from complications of heart ailments.
His 1987 nomination bid to the US high court resulted in the first national political and lobbying offensive mounted against a judicial nominee.
Bork also presided over the firing of the special prosecutor investigating Watergate as President Richard Nixon's acting attorney general.
An expert in anti-trust law, Bork later became a strong critic of liberal policies after the Supreme Court confirmation fight made him a hero to conservatives.
'Saturday Night Massacre'
President Nixon named Bork as US solicitor general, the White House's advocate before the Supreme Court, in 1973.
Bork became acting attorney general, the nation's top law enforcement official, after Elliot Richardson, Nixon's attorney general, refused to fire Watergate special prosecutor Archibald Cox for asking for copies of taped Oval Office conversations.
Elliot Richardson resigned, and his second in command was fired after refusing to get rid of Cox. Bork became attorney general and fired the prosecutor.
The incident became known as the "Saturday Night Massacre".
Bork returned to his position as solicitor general, serving until 1977. He later served as a federal judge on one of the most prestigious appellate courts from 1982 to 1988.
No supreme court
President Ronald Reagan nominated Bork to the Supreme Court in 1987. A fight ensued, with opponents attacking Bork for what they said were extremist views on social issues and free speech.
Democratic Senator Edward Kennedy summed up the opposition by saying: "In Robert Bork's America there is no room at the inn for blacks and no place in the Constitution for women."
Bork's supporters said he was extremely qualified, writing a quarter of the appellate court's majority opinions in five years without being overturned by the Supreme Court.
His bid for the US high court failed in the Senate 58-42, the largest negative vote for a Supreme Court nominee.
After the nomination fight, Bork became a conservative critic, writing several books, and was a fellow at the conservative Hudson Institute.
He also served as a legal adviser to Mitt Romney's 2012 presidential bid.