Snowstorm leaves four dead as winter hits US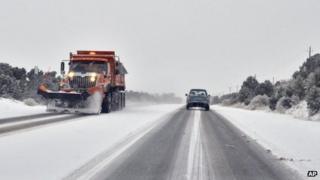 At least four people have died as the first major snowstorm of the season crosses the US Midwest.
Two people died in a car crash in Wisconsin, one was killed in a 25-vehicle crash in Iowa, and a woman died in Utah after becoming stuck in snow.
Blizzard conditions and as much as 1ft (30cm) of snow are expected from Kansas to Wisconsin, with the Rocky Mountains already blanketed.
Officials said the storm could bring temperatures below -17C (0F).
The severe weather could disrupt pre-Christmas travel, they have also warned.
Nearly 1ft of snow fell in Des Moines, Iowa, and winds as high as 53mph (85 km/h) were recorded in the south-western part of the state.
'We're used to it'
In Utah, rescuers found a woman dead after she tried to walk to find help after her car became stuck in snow.
In Wisconsin on Wednesday, a man lost control of his car and he and his passenger became trapped in the vehicle, killing them both, officials said.
The National Weather Service warned those in the path of the storm to stay off roads because of poor visibility.
Chicago's busy O'Hare airport reported more than 90 flight cancellations, and the Federal Aviation Administration said on its website that flights into Chicago were being delayed at their place of departure. Some flights were being delayed by more than two hours, the website said.
Interstate 29 in Missouri was shut down on early Thursday and Interstate 80 in Nebraska remained closed due to blowing snow.
But in Iowa, resident Laurie Harry told the Associated Press the snow would not stop her from driving to work on Thursday.
"If I need to get into work, I'll be here," said Ms Harry, a manager at a Casey's General Store in the western Iowa town of Atlantic.
"We've had snow before. Iowans know what to expect. We're used to it."
On the southern edge of the storm system, high winds have damaged homes and downed trees in Arkansas and Alabama.
Tornado warnings remained for parts of Mississippi, Louisiana and Alabama on Thursday.