Peter Madoff sentenced to 10 years in prison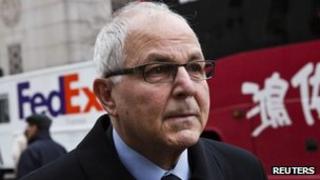 The brother of disgraced Wall Street financier Bernard Madoff has been sentenced to 10 years in prison for his role in his brother's Ponzi scheme.
Peter Madoff, 67, said he was "deeply ashamed" of his conduct and accepted full responsibility for his actions.
In June he pleaded guilty to charges of conspiracy to commit securities fraud and falsifying books.
His brother was convicted in 2009 and sentenced to 150 years in prison for running a $65bn (£40bn) fraud scheme.
Some experts estimate that investors lost about $20bn.
'Jobless pariah'
At Thursday's sentencing hearing in New York, Peter Madoff said: "I am deeply ashamed of my conduct. I accept full responsibility for my actions."
Prosecutors earlier told the court that he had failed to stop his brother even though the pair had worked together for more than 40 years.
They argued that Peter Madoff, formerly chief compliance officer and senior managing director at his brother's firm, helped to create false and misleading documents to make it seem as though the company had an effective compliance programme.
He is also accused of transferring millions of dollars within the family to avoid paying tax, and of falsely listing his wife as a company employee.
But a defence lawyer said in court papers filed on Monday that Peter Madoff would be left penniless, and a "jobless pariah", adding that his client was remorseful after he learned of his brother's crimes in December 2008.
"Peter truly believed that his brother was a brilliant securities trader and as a result he encouraged his own family to invest millions of dollars in accounts managed by his brother," defence lawyer John Wing said, according to court documents.
Peter Madoff agreed to the 10-year sentence as part of a plea deal with prosecutors in June.
The deal stripped him of his assets, savings, home and personal property, as well as all future assets and income, his lawyers said.
Bernard Madoff, now 74, has repeatedly denied that his brother had any involvement in the scheme.
His "investment fund" was once thought to be the biggest hedge fund in the world.