Chicago mobster Frank Calabrese Sr dies aged 75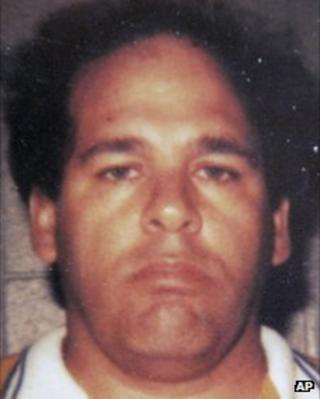 Convicted Chicago mobster Frank Calabrese Sr has died in prison aged 75, US officials have announced.
They said he passed away on Christmas Day at the Butner Federal Medical Center in North Carolina, without releasing the cause of death.
Calabrese had claimed he had a host of ailments, including an enlarged heart.
He was serving a life sentence after his conviction for racketeering in 2009. The high-profile trial involved 18 decades-old murders.
"It's very emotional right now because there were two sides to my dad, and I miss the good side," Calabrese's son, Frank, told the Chicago Sun-Times newspaper.
He had helped put his father behind bars by secretly recording him boasting about mob killings.
Calabrese was tried alongside four other mobsters and a former Chicago policeman.
It was Chicago's biggest mob trial in decades, producing sensational testimonies from witnesses about mafia killings.
However, none of the defendants was charged with murder.