Miss Congeniality's Stanley Cup riot guilty plea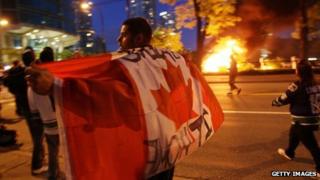 A former beauty queen has pleaded guilty to taking part in riots in the Canadian city of Vancouver following the 2011 Stanley Cup ice hockey final.
Sophie Laboissonniere, who won the Miss Congeniality prize in a 2011 beauty pageant in Vancouver, has admitted a charge of participating in a riot.
A breaking and entering charge is likely to be stayed, her lawyer said.
Cars were set on fire and buildings looted after the Vancouver Canucks lost to the Boston Bruins in the NHL final.
Laboissonniere, who was 20 at the time of the riots in June 2011, did not appear at the provincial court in Vancouver on Monday.
However, her lawyer entered a plea on her behalf and said she would be present at a sentencing hearing scheduled for May.
"She has received a level of notoriety that goes way beyond the offence she committed. She's stuck with that for a long time," lawyer David Baker told reporters.
Laboissonniere was a contestant in the 2011 Miss Coastal Vancouver pageant and and was awarded the title of Miss Congeniality.
So far, 173 people have been charged in connection with the riots. More than 100 have pleaded guilty.