US House approves Sandy aid package of $51bn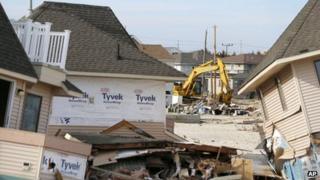 The US House has approved $51bn (£32bn) in 'super-storm' Sandy aid, despite opposition from conservatives criticising the spending.
In separate votes, the lower chamber passed $17bn in emergency aid and $34bn for long-term projects.
Congress has already approved $9.7bn in flood insurance aid, after north-eastern lawmakers blasted House leaders for putting off a vote.
The October storm flooded East Coast areas and killed at least 120 people.
The north-eastern states of New York, New Jersey and Connecticut were the hardest hit.
'Poison pill'
The vote was 241 to 180, with 179 Republicans and one Democrat voting no.
The bill will now move to the Senate, where it is expected to be passed by lawmakers in the coming days.
The initial $17bn bill taken up on Tuesday includes aid for emergency relief, covering repairs to infrastructure and payments for immediate assistance to individual Sandy victims.
A second $34bn measure adds longer-term funds for infrastructure improvements aimed at preventing future storm damage.
"The tradition of Congress of providing support for Americans in times of crisis, no matter where they live across this great country, lives on in today's vote in the House of Representatives," New York Governor Andrew Cuomo, a Democrat, and New Jersey Governor Chris Christie, a Republican, said in a joint statement.
The House struck down a proposed amendment by some conservative lawmakers to offset the $17bn bill with 1.6% across-the-board spending cuts for 2013.
"This is not a poison pill," South Carolina Republican Representative Mick Mulvaney, who supported the amendment, told the Associated Press prior to the vote.
"It's not designed for delay... I just want to try and find a way to pay for [the aid]."
Others argued the $34bn longer-term spending measure, offered by New Jersey Republican Rodney Frelinghuysen, funds too many projects that should be paid through non-emergency bills.
"While my heart goes out to the victims of Hurricane Sandy, it is unacceptable for Congress to use this disaster as a justification for passing a bill chock-full of pork barrel spending," Georgia Republican Paul Broun said on Monday.
The White House had also urged Congress to pass the bill without offsetting cuts.
"Providing federal funding for response, recovery and mitigation following Hurricane Sandy will maintain the nation's tradition of pulling together to help one another in times of greatest need," the White House said earlier.
Republican House Speaker John Boehner scheduled the votes on Sandy aid after declining to consider a $60bn Senate measure in the last Congress, allowing the legislation to expire.
Republican and Democratic lawmakers from hard-hit states pilloried Mr Boehner for not holding the vote after the last-minute fiscal cliff bill.