Leon Panetta makes final international trip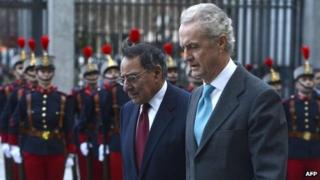 US Defence Secretary Leon Panetta is on his last international trip as head of the Pentagon.
He is visiting four countries on his week-long tour of Europe: Portugal, Spain, Italy and the UK.
Speaking in Madrid, he expressed condolences on the day the 100th Spanish service member to die in Afghanistan was buried.
Former Republican Senator Chuck Hagel has been nominated to succeed him at the Department of Defense.
Later this week the defence secretary will visit his counterparts in Rome and London.
In the Spanish capital on Tuesday, Mr Panetta spoke in strong terms about the "critical" role of countries such as Spain and the troops they will provide after the end of Nato combat mission in Afghanistan in 2014.
'Crucial alliance'
During a joint press conference with Spanish Defence Minister Pedro Morenes Eulate, he also said Spain was a vital US ally.
In Madrid, he discussed the four Aegis ships that will this year be deployed to Rota, a US naval base on the southern coast of Spain, as a sign of the strong military alliance between the two countries.
"The purpose of that [deployment] is to fulfil our commitment to the European ballistic missile defence system," he said.
The ships, upon arrival in Rota, will bring with them about 3,000 US military personnel and family members, essentially doubling the American community there.
Before his brief visit to Madrid, Mr Panetta became the first US defence secretary to visit Portugal for 30 years.
Although the US is adding to its overall military presence in Spain, it is cutting numbers in Portugal.
While in Lisbon, Mr Panetta and Portuguese Defence Minister Jose Pedro Aguiar-Branco spoke warmly of their long-standing bilateral military ties.
Mr Panetta took the opportunity to announce a delayed timeframe for planned cuts to the Lajes Air Base in Portugal's Azores, a group of nine volcanic islands located almost 1,000 miles (1,600km) west of the Iberian peninsula.
He said the US remained committed to Lajes despite looming cuts that would halve the total number of personnel there.
The measures are expected to save the US government $350m (£218m) over a decade.
Mr Panetta said the US had agreed to delay the reductions so that the impact would not be felt in the Azores until the later part of 2014.
American forces first began working out of Lajes during World War II, tasked with hunting German submarines.
Referring to the overarching goals of the trip, Mr Panetta told reporters: "Our European allies, as all of you know, are the most capable and closest military partners that the United States has, bar none.
"And with Afghanistan and Libya, I think we've all seen how crucial that alliance can be in the 21st Century."